The day U.S. prosecutors alleged massive fraud at a Malaysian state fund, it was business as usual thousands of miles away for Prime Minister Najib Razak. Attending an evening feast for thousands of civil servants, he shook hands and posed for selfies.
The next day he showed up at the exhibition of a new sedan by the country's top carmaker and held a national development planning meeting. He only briefly addressed the U.S. news, saying the Department of Justice action should be allowed to run its course.
The message was clear: The premier is focused on matters at home, especially the economy, as he seeks to preserve support among his ruling party's base of ethnic Malays, many of them in rural areas. One of his pit stops on Thursday was a speech to employees of a government agency that is tasked with helping thousands of smallholder farmers.
Having already weathered a year of scandals over multi million dollar political donations, it would take a major development domestically to put the premier at risk of losing his job in the near term. That's even as the U.S. civil suits seek to seize more than $1 billion in assets that prosecutors allege was siphoned from troubled state fund 1Malaysia Development Bhd., whose advisory board Najib chaired until recently. Najib has denied any wrongdoing.
'Fairly Secure'
"The market is quite clear that Najib is fairly secure at this stage and there isn't too much of a political challenge to him," said Vaninder Singh, a Singapore-based economist at Royal Bank of Scotland Plc. "As a consequence, what we've seen is that the impact from any 1MDB-related news stories on financial markets has come off significantly over the last few months."
U.S. investigators laid out their case on Wednesday that more than $3.5 billion exited 1MDB fraudulently and was spent on paintings, luxury real estate and a Hollywood blockbuster, and at least $700 million flowed into accounts controlled by a top Malaysian official whose description fits Najib.
The premier has previously acknowledged a similar amount went into his accounts before the 2013 general election. He's said the money was a private donation from the Saudi royal family and most of it was later returned. Among those identified in the U.S. suit was Najib's stepson Riza Aziz and his associates. The U.S. did not name any individuals as defendants.
There's no immediate indication of whether the U.S. is readying criminal charges against Malaysian officials, and the chances of Najib being indicted at home appear low. Domestic investigations into 1MDB and into Najib's actions have largely wrapped up. The attorney general concluded earlier this year that Najib did not engage in any graft.
As markets wobbled last year on the revelations of the money that reached Najib's accounts -- foreign funds sold a net 30.6 billion ringgit ($7.5 billion) of Malaysia stocks and bonds in 2015 and the ringgit fell 19 percent -- the premier moved swiftly to shore up support.
He fired detractors including his deputy prime minister, and curbed dissent within his United Malays National Organisation. An opposition in disarray, marked by periods of public infighting, has helped him.
No Evidence
In the aftermath of the U.S. move, senior officials in Malaysia were quick to close ranks around Najib. History has shown the U.S. can act too hastily and then be proven incorrect, one minister said, adding no 1MDB money is missing or stolen. There's no evidence from any probe anywhere that funds were misappropriated, the attorney general said, expressing "strong concerns at the insinuations and allegations" against Najib.
Other officials said the U.S. suit is part of a wider plot by Najib's detractors to topple a democratically-elected government, with one warning foreign meddling may lead Malaysia to become like Syria or Iraq.
"What we don't know yet is whether there is anyone left in Malaysia to convince one way or another," said Gregory Poling, a Southeast Asia specialist at the Center for Strategic and International Studies in Washington. "The opposition and its supporters were already certain that Najib had a hand in money laundering from 1MDB. Within UMNO, Najib has forced out all those who thought the same, so all that is left are loyalists who are either convinced that he is innocent or don't care one way or another."
Investors meanwhile are focused on the need for stability. The currency has see-sawed this year amid an uncertain economic outlook, turning Asia's best performance in the first three months of 2016 to one of the region's worst since then.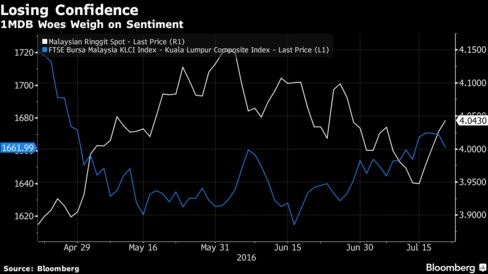 The economy is projected to expand at the slowest pace in seven years amid falling oil revenue and weaker exports. After adding liquidity into the financial system earlier this year, policy makers lowered the key interest rate this month as a pre-emptive move to prevent a deeper slowdown.
There is residual public anger over a goods and services tax implemented more than a year ago, and spending constraints could leave Najib with less room to increase cash handouts that are currently given to 7 million Malaysians, or one in every 4 citizens. The premier delved into the populist playbook last year for a budget sprinkled with handouts and subsidies, but lower crude prices have curbed revenue.
Still, foreign investment is holding up and rose 28 percent in the first quarter from a year earlier, led by the services sector.
Next Election
For Najib, economic stability is crucial as he seeks the votes of rural and semi-urban areas in the next election due by 2018. At stake for UMNO is the unbroken rule of its Barisan Nasional coalition since independence in 1957. He's had recent wins in local polls in Malaysia's biggest state of Sarawak on Borneo island and two federal by-elections.
"1MDB seems not to be the top issue for rural voters and they eye more on economic and social welfare, which could be tackled by targeted fiscal measures," said Vincent Tsui, a Hong Kong-based economist at AllianceBernstein LP which oversees about $490 billion.
While the 1MDB drama has raised doubts about governance and accountability in Malaysia, the structure of domestic politics likely protects Najib. His mentor-turned-nemesis Mahathir Mohamad, who was premier for over two decades, has repeatedly said UMNO will lose the next election if Najib is leader.
The Coalition for Clean and Fair Elections, or Bersih, is considering another anti-Najib rally similar to one that brought out an estimated 300,000 people last August. The premier's supporters say they'll respond with their own march to show their allegiance.
As long as Najib retains the backing of UMNO's powerful division heads -- the bulk of whom have stood by him in the past year -- fresh protests will carry little weight. The views of those chiefs will become increasingly important closer to an election, depending on whether they feel Najib can carry the party to another win. Some economists have said Najib may consider an early election for 2017, to take advantage of the opposition infighting.
Having early elections could "completely put to bed" any political risk premium for Malaysia, said Singh from RBS.
"The political risk premium on Malaysian assets has come down quite a bit already," Singh said. "If there's another election and there's a strong showing by UMNO, whatever's left will also go away."
Artikel Terkini